Check Valve
Alpha Ind. Tech.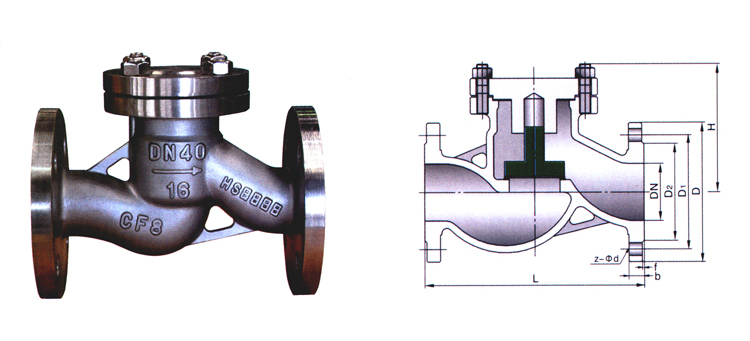 ---
Check Valve
Swing check valve, also known as one-way valve or non-return valve, is used to prevent the backflow of media in the pipeline. The opening and closing parts are opened or closed on the basis of medium flow and force. The valve that prevents the back-flow of medium is called the check valve. Check valve belongs to automatic valves. It is mainly used for pipes with unidirectional flow of media. To prevent accidents, medium is allowed to flow in only one direction.
The lift check valve refers to a valve that automatically opens and closes the disc by the flow of the medium itself, and is used to prevent the back flow of the medium. It is also called a check valve, a one-way valve, a non-return valve and a back pressure valve. The check valve is an automatic valve whose main function is to prevent the backflow of medium, the reversal of pump and drive motor and the discharge of container medium. The check valve can also be used to a line that supply to auxiliary system in which the pressure may exceeds the system pressure. The check valve can be mainly divided into a swing check valve (rotating with the center of gravity) and a lift check valve (moving along the axis).
The wafer butterfly plate check valve is a valve used to prevent backflow of media during usage in pipelines and equipment. The face-to-face dimension of the valve body is short series, the rigidity is good, the installation is convenient, the performance is completely reliable, and the anti-interference is great. The design of the butterfly plate uses two torsion springs on the dual plate to automatically open and close the valve plate within the pressure range. Different types of rubber and other components can be selected according to the needs of users.
The internal thread check valve has the same nature and function as the check valve described above, but its ends are not flanged connections but threaded connections. In general, the check valves with threaded connections are below DN50.
Alpha's Check valves include the following types:
1 Swing Check Valve Type: KH44T-10/16
2 Lift Check Valve Type: KH41T-6/10/16
3 Wafer butterfly check valve Type: DH77X-6/10/16
4 Internal Thread Swing Check Valve Type: DH11T-6/10/16
5 Internal Thread Through Way Check Valve Type: DH14T-6/10/16